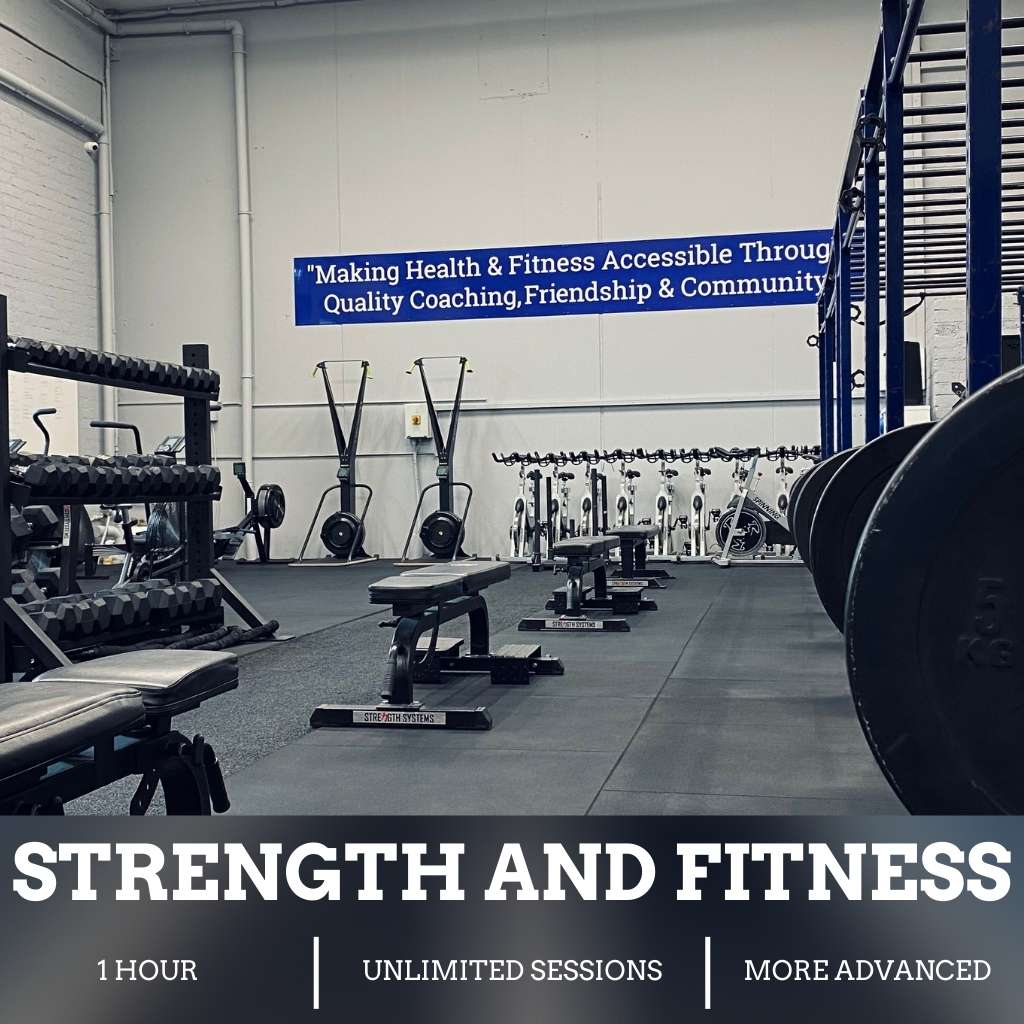 OUR STRENGTH AND FITNESS PROGRAMS COMPRISE OF 3 MEMBERSHIPS
LIFESTYLE (3 DAY PROGRAM)
LIFETSTYLE X (5 DAY PROGRAM)
PERFORM (SPORT ORIENTED PROGRAM FOR ATHLETES)
SESSIONS LAST JUST 1 HOUR FROM WARM UP TO COOL DOWN. IDEAL FOR A BUSY LIFESTYLE, OUR SESSIONS SHOULD BE EASY TO SQUEEZE INTO EVEN THE BUSIEST OF SCHEDULES.
OUR STRENGTH AND FITNESS PROGRAMS HAVE A PROGRAM FOR YOU NO MATTER WHAT YOUR GOALS ARE. WHETHER YOUR GOAL IS STRENGTH, CARDIO, REHAB, OT WEIGHTLOSS, OUR PROGRAMS HAVE AN OPTION FOR EVERYONE.
WITH ACCESS TO THE PROGRAM ON YOUR PHONE APP,  WE HAVE UTILISED TECHNOLOGY TO MAKE THE MOST EFFECTIVE SYSTEMS FOR HELPING YOU TO ACHIEVE YOUR GOAL. NOT ONLY CAN YOU TRACK YOUR WORKOUTS,  BUT YOU CAN TRACK YOUR PROGRESS AND EVEN YOUR NUTRITION ON THE APP TOO!
ALL WORKOUTS ARE PROGRAMMED FOR YOU ON OUR TAILORMADE FITNESS APP, MEANING ALL YOU HAVE TO DO IS SHOW UP AND PUT THE WORK IN.
WE HAVE MADE ACHIEVING YOUR GOALS AS EASY AS POSSIBLE.
WITH ACCESS TO BOTH A PROGRESS AND NUTRITION TRACKER, SUCCESS HAS NEVER BEEN AS EASY
GET IN TOUCH TODAY TO START YOUR FITNESS JOURNEY